Bishop`s Bio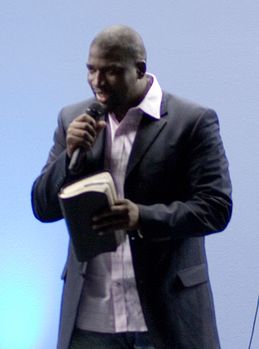 Bishop Gary R. Johnson Jr. was born February 6, 1978 in Pacoima, CA.  Bishop was raised by a loving village consisting of grandparents, aunts and uncles.  His mother absent, due to fatal birthing complications and his father having taken an alternate path.  Bishop experienced a plethora of locations, faiths and tragic encounters.  These experiences created a passion to reach those searching for a "way out." Bishop sought the Lord for direction and embarked on his ministry journey.
At the tender age of nineteen he embraced the Apostolic Faith and was baptized by Pastor Vincent E. Hicks of the Assembly of God's Elect.  In lieu of an offered NFL opportunity his new found knowledge of the Grace, Mercy and Love of Jesus Christ catapulted him into ministry.  Bishop began as an usher and in 3 years' time had been ordained to Assistant Pastor.  After serving Pastor Hicks diligently for five years the Lord transitioned Bishop Johnson to serve alongside the Honorable Bishop Andrew C. Turner II, New Covenant Tabernacle of Palmdale, CA(P.A.W.).  Bishop Johnson was expeditiously installed as Youth Pastor, expanding its ministry to over 300 youth.  Under the tutelage of Bishop Turner, Bishop Johnson has worn many hats and exercised various ministry gifts therefor stirring up the gift that was placed within him.
In 2012 Bishop Gary R. Johnson Jr. founded and established the Empowered Church of Los Angeles.  Partnering with the Western Baptist Convention Central District Association (Moderator Dr. John L Lett Sr.), Bishop Johnson was then asked to be the President over the evangelism,Young Adult department and served as the Executive Secretary. He now help oversees 14 churches in the central district as Vice Moderator.  In 2014 Bishop was asked to oversee a dying church in Palmdale, CA, where he now serves as Bishop overseer. And has turned the ministry around, with a very active Youth and Young Adult Ministry. Throughout this tenure Bishop Johnson has founded his own Fully Accredited K-12 Learning Academy, which at this present time has given education to upwards of 100s of Children, who the state of California and Arizona had deemed , "disadvantaged ". In an effort to help his community, Bishop Johnson has also recently opened a food Pantry ministry, which in the short span of 5 months, has fed over 12,000 families. Throughout this time, many other ministries have been birthed, including a ministry for teen mothers.
He has since then heard the voice of God and has open an additional 2 locations, (Central Los Angeles, Queen Creek,a Gilbert Arizona.) Bishop walks in the full grace of God, and has recently been moved by the power of The Holy Spirit to Pastor the Empowered Church International in Queen Creek and Gilbert Az. 
Bishop is currently penning his first book while pursuing his Doctorate in Christian Studies at GCU. Bishop Gary R Johnson Jr. was consecrated Bishop and Presiding Prelate of the Empowered Church International in December 2014 by the late Moderator Dr. John L. Lett Sr. And Bishop Noel Jones Preached the Officiating Service. Bishop Johnson, the Senior Pastor of Empowered Church Intl. enjoy working in ministry, and is the CEO of Gary R Johnson Jr. Enterprises INC. He is a proud parent to three beautiful blessings and, he aspire to champion them in having a successful life in Christ.